Downtown Dental Care: Online Dental Education Library
Our team of dental specialists and staff strive to improve the overall health of our patients by focusing on preventing, diagnosing and treating conditions associated with your teeth and gums. Please use our dental library to learn more about dental problems and treatments available. If you have questions or need to schedule an appointment, contact us.
Palm Beach Gardens Dentist
There is an exceptional Palm Beach Gardens dentist that is unsurpassed in the area. This suburb dental office offers patients exemplary treatment options that leave individuals fully satisfied with the results. The compassionate staff take all of their patient's unique concerns seriously. The professional dental services include a wide array of treatment options. This is a dental practice that can be trusted for all forms of dental needs. The location is ideal for Palm Beach Gardens residents and individuals from outlying areas. Prospective patients can inquire about the many outstanding dental procedures that are available. Many patients can attest to the high quality of service at this remarkable Palm Beach Gardens dentist office.
Patients receive top-notch exams that can pinpoint any potential dental problems. Nothing is left to chance at this full service dental office. State-of-the-art X-rays ensure that underlying problems are not missed. Patients are delighted with the expert cleanings. Preventative care is practiced to reduce future costly and unnecessary procedures. The staff keeps track of a patient's routine oral health regimen. If further treatment is needed, this dental service provides many on-site procedures. This convenience makes this dental office a smart choice for patients. Continuity of care is important to this fantastic practice.
Great care for patient comfort is stressed at this Palm Beach Gardens dentist office. The atmosphere is tranquil and non-stressful. This reputable dentist is experienced with performing fillings with ease. The standard of care is extraordinary. This innovative dental practice offers patients many forms of cosmetic dentistry. Patients can finally get the smile that they have always desired. Fabulous and natural looking lumineers are a popular choice to improve appearances. This can empower a patient with new found self-esteem. Many other dental appearance procedures are available. The results are absolutely stunning. Gorgeous smiles are the goal of this artistic dentist.
It is not hard to find happy patients at this wonderful dental practice. This dentist has a solid reputation for fine reputable work. People in need of orthodontic treatment need to look no further than this office. Orthodontic procedures are able to be performed at this same location. This dentist stays current with the latest in technological practices. Patients can rest assured that they are receiving the best care possible. This is truly an amazing practice. The convenience cannot be beat. Individuals wanting superior dental health should check out this renowned Palm Beach Gardens dentist
Replacement teeth supported by dental implants function so well and last so long because, like natural teeth, they are securely anchored in the jawbone for maximum support. In order to benefit from this remarkable technology, however, you need to have enough tooth-supporting bone in your jaw to hold a dental implant in place. Unfortunately, after tooth loss, the surrounding bone almost always deteriorates — decreasing in width, height and density — and this process starts immediately. The longer a tooth has been missing, the more the bone that used to surround it resorbs (melts away). If you want a dental implant but don't have enough bone to support it, can anything be done? Yes. Very often you can still get the replacement tooth you want, thanks to routine bone grafting procedures.
How It Works
Bone grafting, normally a minor surgical procedure done in the dental office, is used to build up new bone in the area of your jaw that used to hold teeth. A small incision is made in your gum to expose the bone beneath it, and then grafting material is added. Most often, the grafting material is processed bone that serves as a scaffold, around which your body will actually deposit new bone cells. The grafting material will eventually be absorbed by your body and replaced by your own new bone.
The grafting material needed can come from a variety of sources. Sometimes it comes from your own body. Very often, however, it is bone from an animal or human donor that is processed by a laboratory to make it sterile and safe. Grafting material can even be synthetic. It comes in a variety of forms: powder, granules, putty or even a gel that can be injected through a syringe.
Types of Bone Grafts
There are a variety of sources of bone grafting material used for preserving or augmenting bone for dental implants. All of these bone grafting materials are backed by significant research. They are processed (except autografts, which do not need processing) so that they are safe to use, eliminating the potential for rejection or disease transmission.
Autograft: If you are already familiar with the concept of bone grafting, an autograft is probably what you're thinking of: taking bone from one site in your body and moving it to another. This is the only type of bone graft that involves creating two surgical sites: the one from which the bone is harvested and the one where it is deposited.
Allograft: This refers to laboratory-processed human bone from a deceased donor that comes from a tissue bank.
Xenograft: This bone grafting material comes from an animal — usually a cow.
Alloplast: This type of graft uses synthetic (man-made) materials.
What to Expect
The procedure for placing a bone graft usually requires only local anesthesia, though oral or IV sedatives can also be used to achieve a higher state of relaxation. Because a small incision in your gum tissue needs to be made to access the underlying bone that will receive the graft, you may experience some soreness in the area after the surgery; this can usually be managed by over-the-counter anti-inflammatory medication and/or pain relievers as well as ice therapy after the procedure. Though you will soon feel completely back to normal, it may take your body up to seven months for bone maturation to take place to receive your dental implant. The waiting time allows the healing process enough time to achieve the desired result: ideal support for replacement teeth that look great and will last a lifetime.
Related Articles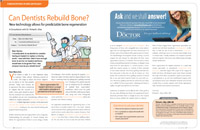 Can Dentists Rebuild Bone? Yes they can! It is very important to maintain bone volume following removal of a tooth so that dental implants remain a viable option for tooth replacement. This is easily accomplished with today's routine bone-grafting techniques... Read Article