Downtown Dental Care: Online Dental Education Library
Our team of dental specialists and staff strive to improve the overall health of our patients by focusing on preventing, diagnosing and treating conditions associated with your teeth and gums. Please use our dental library to learn more about dental problems and treatments available. If you have questions or need to schedule an appointment, contact us.
Palm Beach Gardens Dentist
There is an exceptional Palm Beach Gardens dentist that is unsurpassed in the area. This suburb dental office offers patients exemplary treatment options that leave individuals fully satisfied with the results. The compassionate staff take all of their patient's unique concerns seriously. The professional dental services include a wide array of treatment options. This is a dental practice that can be trusted for all forms of dental needs. The location is ideal for Palm Beach Gardens residents and individuals from outlying areas. Prospective patients can inquire about the many outstanding dental procedures that are available. Many patients can attest to the high quality of service at this remarkable Palm Beach Gardens dentist office.
Patients receive top-notch exams that can pinpoint any potential dental problems. Nothing is left to chance at this full service dental office. State-of-the-art X-rays ensure that underlying problems are not missed. Patients are delighted with the expert cleanings. Preventative care is practiced to reduce future costly and unnecessary procedures. The staff keeps track of a patient's routine oral health regimen. If further treatment is needed, this dental service provides many on-site procedures. This convenience makes this dental office a smart choice for patients. Continuity of care is important to this fantastic practice.
Great care for patient comfort is stressed at this Palm Beach Gardens dentist office. The atmosphere is tranquil and non-stressful. This reputable dentist is experienced with performing fillings with ease. The standard of care is extraordinary. This innovative dental practice offers patients many forms of cosmetic dentistry. Patients can finally get the smile that they have always desired. Fabulous and natural looking lumineers are a popular choice to improve appearances. This can empower a patient with new found self-esteem. Many other dental appearance procedures are available. The results are absolutely stunning. Gorgeous smiles are the goal of this artistic dentist.
It is not hard to find happy patients at this wonderful dental practice. This dentist has a solid reputation for fine reputable work. People in need of orthodontic treatment need to look no further than this office. Orthodontic procedures are able to be performed at this same location. This dentist stays current with the latest in technological practices. Patients can rest assured that they are receiving the best care possible. This is truly an amazing practice. The convenience cannot be beat. Individuals wanting superior dental health should check out this renowned Palm Beach Gardens dentist
People don't generally think of a dentist as the healthcare professional to see for recurring headaches or migraines; yet dentists can play a role in diagnosing and even treating your condition. That's because quite often, recurring pain that is felt in the area of the temples on the sides of the head is actually caused by unconscious habits of clenching and/or grinding the teeth. These habits, which often manifest during sleep, put tremendous pressure on the muscles that work your jaw joint, also called the temporomandibular joint (TMJ).
The fan-shaped temporalis muscles located over your temples on either side of your head are two of several muscles involved in jaw movement. You can easily feel them working if you put your fingertips on your temples while clenching and unclenching your jaw. When temporalis muscles go into spasm from too much clenching, headache symptoms may result. This is not to say that headaches and migraines are always caused by TMJ problems, also known as temporomandibular disorders (TMD). But given the established link between them, it definitely bears looking into — especially if a diagnosis remains elusive in your case.
Sources of Relief
The first thing you need is a thorough oral exam to determine if there is evidence of a clenching or grinding (also known as "bruxing") habit or TMD. If so, there are things you can do for immediate and long-term relief. Sometimes eating softer foods for a few days can reduce stress on the muscles and joints. Ice and/or moist heat can help relieve soreness and inflammation. Gentle stretching exercises, non-steroidal anti-inflammatory medications such as ibuprofen, and muscle relaxants can also provide relief.
Finally, a custom-made nightguard to wear when you sleep might be recommended. This plastic oral appliance, which fits over the teeth, can control or even eliminate clenching and grinding, reducing pressure on the muscles that work the jaw and the jaw joint itself. Some users have reported that their headaches or even migraines are less frequent and/or less intense.
Will a nightguard or other TMD therapy relieve your headaches? It depends on the source of the problem. But living with chronic headaches or facial pain is no fun — so don't delay scheduling an exam and a consultation.
Related Articles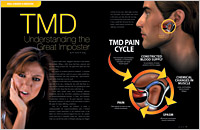 TMD – The Great Impostor This "chameleon" of dental disorders manifests in a variety of ways, including joint pain, sinusitus, ear pain, tooth and headaches. Dear Doctor magazine examines the causes of TMD, its signs and symptoms and what can be done to treat this common disorder... Read Article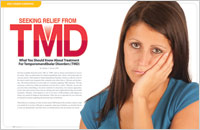 Seeking Relief From TMD TMD, or Temporomandibular Disorders, is an umbrella term for various painful conditions that affect the jaw joints. There are different treatment approaches to TMD problems, but not all are based on science. It's important to be up on the latest information and to be an educated consumer. In this comprehensive article, Dear Doctor magazine provides state-of-the-art information and guidance on what you should know, whom you should see, and what you should ask... Read Article