Downtown Dental Care: Online Dental Education Library
Our team of dental specialists and staff strive to improve the overall health of our patients by focusing on preventing, diagnosing and treating conditions associated with your teeth and gums. Please use our dental library to learn more about dental problems and treatments available. If you have questions or need to schedule an appointment, contact us.
Palm Beach Gardens Dentist
There is an exceptional Palm Beach Gardens dentist that is unsurpassed in the area. This suburb dental office offers patients exemplary treatment options that leave individuals fully satisfied with the results. The compassionate staff take all of their patient's unique concerns seriously. The professional dental services include a wide array of treatment options. This is a dental practice that can be trusted for all forms of dental needs. The location is ideal for Palm Beach Gardens residents and individuals from outlying areas. Prospective patients can inquire about the many outstanding dental procedures that are available. Many patients can attest to the high quality of service at this remarkable Palm Beach Gardens dentist office.
Patients receive top-notch exams that can pinpoint any potential dental problems. Nothing is left to chance at this full service dental office. State-of-the-art X-rays ensure that underlying problems are not missed. Patients are delighted with the expert cleanings. Preventative care is practiced to reduce future costly and unnecessary procedures. The staff keeps track of a patient's routine oral health regimen. If further treatment is needed, this dental service provides many on-site procedures. This convenience makes this dental office a smart choice for patients. Continuity of care is important to this fantastic practice.
Great care for patient comfort is stressed at this Palm Beach Gardens dentist office. The atmosphere is tranquil and non-stressful. This reputable dentist is experienced with performing fillings with ease. The standard of care is extraordinary. This innovative dental practice offers patients many forms of cosmetic dentistry. Patients can finally get the smile that they have always desired. Fabulous and natural looking lumineers are a popular choice to improve appearances. This can empower a patient with new found self-esteem. Many other dental appearance procedures are available. The results are absolutely stunning. Gorgeous smiles are the goal of this artistic dentist.
It is not hard to find happy patients at this wonderful dental practice. This dentist has a solid reputation for fine reputable work. People in need of orthodontic treatment need to look no further than this office. Orthodontic procedures are able to be performed at this same location. This dentist stays current with the latest in technological practices. Patients can rest assured that they are receiving the best care possible. This is truly an amazing practice. The convenience cannot be beat. Individuals wanting superior dental health should check out this renowned Palm Beach Gardens dentist
We are proud of the ways in which dentistry can restore broken or decayed teeth to full beauty and function. One of the easiest and least expensive ways of doing this is with dental bonding.
Bonding uses tooth-colored materials to replace missing tooth structure or hide cosmetically unappealing minor defects in a tooth — chips, discoloration, and even minor spacing irregularities. Bonding materials are called "composite resins" because they contain a mixture of plastic and glass, which adds strength and translucency. The composite actually bonds, or becomes one, with the rest of the tooth.
Composite resins come in a variety of tooth shades for truly lifelike results. When bonding is done with a skilled hand and an artistic eye, it may be impossible to distinguish the bonded tooth from its neighbors. Though bonding will not last as long as a dental veneer, it also does not require the involvement of a dental laboratory and, most often, can be done without drilling of the tooth. It's a particularly good solution for teens, who often need to wait until their teeth have finished maturing before choosing a more permanent type of dental restoration.
The Bonding Process
Because it does not involve dental laboratory work, tooth bonding can usually be accomplished in a single visit to the dental office. Expect the whole procedure to take 30 minutes to an hour. First, the surface of the tooth to be bonded will be cleaned so it is plaque-free. The surface will then need to be "etched" with an acidic gel that opens up tiny pores in the surface. After the etching gel is rinsed off, the liquid composite resin in a well-matched shade is painted on in a thin layer, filling these tiny pores to create a strong micromechanical bond. A special curing light is used to harden this bonding material. Once the first layer is cured, another layer is painted on and cured. Layers can continue to be built up until the restoration has the necessary thickness. The bonding material is then shaped using a dental drill to give it just the right form. Once the tooth not only looks great but fits in perfectly with your bite, it will receive a final polishing.
Caring for Bonded Teeth
Bonded teeth should be brushed and flossed daily, and professionally cleaned at the dental office twice per year, just the same as the rest of your teeth. The most important thing to keep in mind about caring for your bonded tooth is that composite resin can absorb stain, just as natural teeth can. Therefore, you will want to avoid smoking, red wine, coffee and tea to the extent possible. Also, while composite can darken, it cannot be lightened. So if you are thinking about having your teeth whitened, it should be done before your tooth is bonded so that a composite shade can be selected to match the lighter color of your whitened teeth. If you whiten your teeth after bonding, the bonded tooth may not match all the rest. Finally, try not to bite your nails, hold writing implements in your mouth, or use your teeth in other ways that could put excessive force on the bonding material and chip it. With proper care, a bonded tooth should stay beautiful for 3 to 10 years.
Related Articles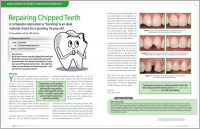 Repairing Chipped Teeth A composite restoration or "bonding" is an ideal material choice for a growing teenager. Composites can be made in a wide range of tooth colors allowing for near perfect color matching with existing teeth — in artistic hands they can be made to look very natural and lifelike... Read Article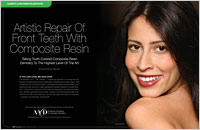 Artistic Repair of Front Teeth With Composite Resin Cosmetic dentistry is about creating invisible art — recreating teeth that look totally natural so that no one can tell the difference! It involves a detailed understanding of natural tooth composition and form, choosing the right composite resin to rebuild and restore lost tooth structure, and understanding light and color. Oh, and a dental artist who can put them all together... Read Article